Bellmont H.S. senior getting on-the-job training in welding at AT Ferrell in Bluffton
She's not a typical intern
Lexy Counterman's workday is much like other employees' time at AT Ferrell in Bluffton.
Four days a week, she arrives at the facility on South Adams Street and dons gloves and a welding hood. Then, she gets to work.
The 18-year-old isn't a full-time employee, though. She's an intern.
Now, business leaders and advocates of career and technical education are hoping her work with the company — which manufactures products for the agriculture and food industries — can lead to growing interest in manufacturing among area students and, possibly, a pipeline of workers from schools to businesses.
A senior at Bellmont High School, Counterman had some interest in welding. Her stepfather is a welder, and she had taken some technical education classes at her school in Decatur.
After talking with a guidance counselor at Bellmont, she sought and received a paid internship at AT Ferrell, where she has worked alongside regular employees at the facility, working on many different projects.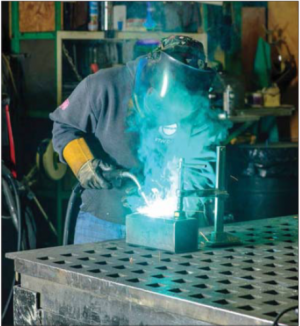 On a recent afternoon, Counterman — hood down and gloves on — worked on a weld under the watchful eye of Jason James, assistant manager/welding lead. She began work at the facility in January.
"There's so many different things that we do," she said. "We always do different things, every day."
The internship is the fruit of a budding and still evolving partnership among area schools, businesses and the Adams-Wells Manufacturing Alliance. The AWMA is made up of businesses such as AT Ferrell, Hoosier Pattern in Decatur and Roembke Manufacturing in Ossian.
The group was formed to promote manufacturing and careers in manufacturing to students.
The goal of the internship program is to highlight those careers — many jobs in manufacturing are available, according to business and economic development leaders — and also to provide outlets for students who might not be heading to college for four-year degrees.
"They're going to benefit from it," said James, who has been a welder for nearly two decades. "When I started, I didn't get trained on what she's doing. Probably 85 percent of my time was spent on a spot welder."
Derek Vrablic is the "career advocate" for AWMA and sees his job as kind of a conduit between schools and businesses. He said the organization can serve as a bridge between educational efforts and manufacturers who need workers.
Counterman is the first student to start work through the AWMA program.
"I think a lot of things line up at the right time for that to happen," Vrablic said.
Another goal of AWMA is simply to provide information and show students what opportunities exist. For example, Vrablic and Wells County Economic Development Director Chad Kline point out: Factories and manufacturing plants are no longer dark, dingy places with only repetitious work.
Also, salaries for welders can range from $27,000 to more than $65,000 annually, according to statistics from the U.S. Department of Labor. The average wage for welders in the U.S. is $40,000.
"This can be an opportunity (for students) to train or hone some skills," said Steve Stuller, AT Ferrell president.
Vrablic said this week he is hoping to work closely with students and schools in Adams and Wells counties as well as area businesses to provide exactly those opportunities.
As for Counterman, she's planning to attend Ivy Tech Community College in the fall. She plans to study welding technology.
"I could go anywhere," she said, referring to a job as a welder.

Article by Matthew LeBlanc, Courtesy of the News-Banner