20/20 plans 'brand-new facility' inside Bluffton site
Wednesday, December 6, 2017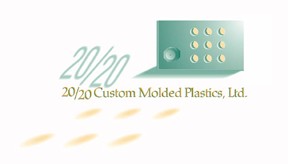 20/20 Custom Molded Plastics Inc., the company that bought the former Buckhorn facility and also hired several former Buckhorn employees, told the Bluffton Common Council Tuesday that it has plans to completely renew the plant at 785 Decker Drive.
The company requested tax abatements on $15.2 million in new manufacturing equipment.
"A year from now it will be like a brand-new facility," said David Rupp, one of the company's representatives at Tuesday night's meeting.
Rupp said 20/20's original operation in Holiday City, Ohio, is a "world-class facility" and vowed to bring the Bluffton facility up to that standard.
The company's statement of benefits filed with its tax abatement request said the new equipment would be for structural foam molding. The company's paperwork said it had 60 employees at this time, but Rick Singer, who had been Buckhorn's last plant manager and was hired by 20/20 when it took over the site, updated that information during the meeting.
"We are about this close" — he held his thumb and forefinger slightly apart from each other — "to having 100 employees," Singer said.
When the equipment is installed, 20/20 plans to have 120 employees at its Bluffton plant. "We'll be increasing employment as the new equipment is brought in," Singer said.
Buckhorn announced last March that it would close its Bluffton plant and lay off 100 employees. Buckhorn began the layoffs in June and said it would end all of its employment in mid-November. However, 20/20 bought the plant in August and announced plans to revitalize the facility. Rupp told the Bluffton council members Tuesday night his company was able to retain several key Buckhorn staffers.
The five Bluffton Common Council members — Carl Perry, Jim Phillabaum, Melanie Durr, Mike Morrissey, and John Whicker — all voted in favor of the abatement request.
Chad Kline, Wells County's economic development director, introduced Rupp Tuesday night. He said the $15.2 million investment in new equipment was the first phase of improvements at the plant. The total investment will total $27 million, he said.
As evidence of its long-term plans in Bluffton, Rupp said 20/20 Custom Molded Plastics has also purchased 38 acres adjacent to the Decker Drive site.
"We appreciate you being here," Mayor Ted Ellis told Rupp. "We appreciate your presence in our community."
Article by Dave Shultz, Courtesy of the News-Banner
About 20/20 Custom Molded Plastics
At 20/20 Custom Molded Plastics, our mission is to exceed our customer's expectations. We consistently do this by assisting with part and mold design and by working with some of the best toolmakers in the industry. We can help you avoid design and production problems because of the expertise that we have developed in the custom structural foam molding industry.