TIF for Training - City, BHMSD working together to connect students with certifications
Saturday, August 15, 2020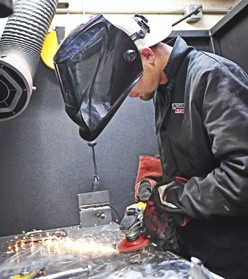 A partnership through the city of Bluffton and Bluffton-Harrison schools is making it easier for students to get certifications for their eventual careers. 
The partnership started when Economic Development Director Chad Kline and Bluffton-Harrison Superintendent Brad Yates presented the idea to use Tax Increment Financing, also known as TIF, funding to cover the costs of the certifications students can get after completing some of the career and technical classes at Bluffton High School. 
The redevelopment commission seemed favorable of the idea and decided to up the ante. The commission, which is made up of the city council members and Yates, countered that they would like to set aside the 15 percent of annual TIF funding that can be used on programming for certifications for students and adults alike. 
Mayor John Whicker said the TIF funding is set aside for infrastructure but also for raising the quality of the workforce to fuel local businesses. 
"This allows a mechanism to fund things like a welding class certification," Whicker said. "It's a situation where we are upgrading the workforce skills, which I think is tremendously important for our community to have opportunities for people who are in school or are getting ready to graduate."
Kline added that companies within the TIF and outside of it are in need of people with the kind of training the funding will be used for. 
"I personally believe it's a good use of funds to support not just the infrastructure and the increase of opportunities that comes in a traditional use of TIF funding but also helps to grow the workforce opportunities to support that growth within our industries as necessary," he said. 
The redevelopment commission is expected to vote on formally setting aside the 15 percent of TIF funding during Tuesday's meeting. However, Bluffton-Harrison has already footed the cost for about nine students to take the certification test after a summer welding course since the spring semester was interrupted by the COVID-19 pandemic. 
Those students have completed the summer course but have not yet taken their tests. The summer course was done in three-hour weekday increments twice a week over three or four weeks, Kline said. 
The American Welding Society certification is the most costly certification at BHS that the TIF funding will cover at $175 per student. About 20 students went through the class at BHS last year, but the school now has two periods of the class, which means as many as 40 students could get certified each semester, Yates said. 
The other certifications that will be covered will be for students getting their certified nursing assistant, also known as CNA, certification through the health science program and the ServSafe certification through the culinary arts program, which cost $75 and $38 respectively. Up to 40 students can take the health science class each semester, and up to 20 students can take culinary arts, which is limited due to the COVID-19 pandemic protocols. 
Whicker said he has heard about the impact the career and technical education courses can have on students through his wife Jolin's, who is a former teacher, experience. A former student of Jolin Whicker's is now thriving in the welding course. 
"School was not easy for him, but when he started taking the welding class, he really has gotten into it. There's a case where a young man who school wasn't really his niche has really blossomed in this program," Whicker said. "There are other examples like that too where some kids just maybe not struggle, but don't have an easy time through school."
Kline pointed out that it isn't only Bluffton High School students that benefit from the career and technical programs. Since BHS is part of the Area 18 CTE cooperative, students from nine different schools can attend the classes. Typically, those students are from Norwell and Southern Wells high schools due to the proximity. 
Yates said he is thankful that BHS has the quality instructors to teach all of its CTE classes since their qualifications have to be of a certain level to qualify for the Graduation Pathways requirements schools now face. For the classes that TIF funding will assist, the teachers are Kevin Powell for welding, Sherry Makowski for health science and Karen Reed for culinary arts. 
"Finding quality instructors in those areas is a difficult thing. Keeping them is even more difficult," Yates said. "When you think about a trade program, many times, those trades are high-wage areas where those instructors could go out and work in the field directly, and they earn more money than they earn as a public service with education."
Story by Devan Filchak, Courtesy of the News-Banner