Ossian welcomes a new industry
Roembke Manufacturing and Design and Design Facts Inc. of Fort Wayne have consolidated their manufacturing companies under one roof in the Roembke building. While Roembke will retain its name, Design Facts is becoming DF Automation.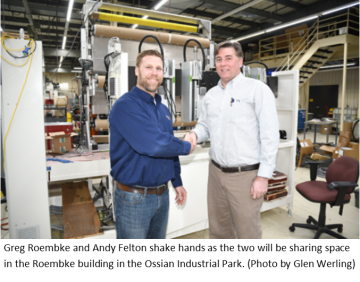 "Roger and Andy (Felton) ran Design Facts and they were a great supplier to Roembke Manufacturing for 10-plus years," said Greg Roembke, company president.
Design Facts is a designer and integrator of automated solutions. "We provide custom tooling to remove parts from a mold, vision inspection to ensure quality of molded parts, sometimes our solutions have robots handling parts," said Andy Felton.
Design Facts helps other companies with the solution to manufacturing parts for various projects.
It was located in a small industrial park near Fort Wayne International Airport, so the company is not moving far.
Roembke's business made up about a quarter of the Design Facts business, so it made sense to combine, Felton said. The retirement of his father, Roger, was the incentive to make the move.
"It just made sense. We worked together long enough, we knew each other and our businesses' are similar and compliment each other. It will reduce our overhead and costs. They have a lot of machine capability, which we can use at times. We can share resources, which at peak times will help keep us on schedule," Felton added.
"And there was definitely cost advantages to moving the company from Allen County to Wells County," added Roembke. He explained that he and Felton bought the assets of Design Facts.
Talks about combining the companies under one roof started in June and the consolidation under one roof occurred Jan. 1.
DF Automation is bringing seven of Design Facts' employees to Ossian. Those employees are bringing approximately $450,000 in salaries to Wells County.
"These are technical jobs," Felton said.
"In the future we see the synergy of our companies and the added resources that Roembke can bring to DF Automation will be a big plus to entice customers to bring more automation projects to DF Automation. We hope that in a short period of time we will be able to expand employment here, and possibly even our physical space," Roembke said.
Wells County Economic Development Director Chad Kline welcomed DF Automation to Ossian.
"DF Automation is bringing highly skilled, highly educated and high paying jobs into Wells County. This is a new industry and a new opportunity for Ossian."
Added Roembke: "That is a great advantage of Wells County and Ossian. The town council here is very accepting of businesses and very welcoming to new businesses to locate here."
 
Article by Glen Werling, Courtesy of the News-Banner