Building Trades Training Program Unveiled
Thursday, February 23, 2017
The Northeast Indiana Building & Construction Trades Council and Northeast Indiana Works today unveiled a free, three-week pre-apprenticeship program that will help enhance talent pipelines for construction trades occupations.
The Building Futures initiative, a collaboration of numerous regional entities, will debut April 10 in Allen County and eventually be offered to residents in other northeast Indiana counties.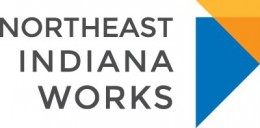 "Building Futures is precisely the kind of program we need to ensure that the building trades have a talented, diverse workforce to meet the current and future needs of our region's growing economy," said Darryl Esterline, president of the Northeast Indiana Building & Construction Trades Council. "We are thrilled that so many exceptional partners have stepped forward to assist us in this effort."
Among the partners: Northeast Indiana Works, which helped facilitate strategic planning and secured significant funding for the program through a $670,000 Skill UP Indiana! grant for the pre-apprenticeship program and a separate insurance industry initiative; Ivy Tech Community College Northeast, which is the chief training provider for Building Futures; WorkOne Northeast, which will assist with participant assessments; the Fort Wayne Urban League and the Indiana Plan, which along with Ivy Tech, will provide instruction; the JPMorgan Chase Foundation, City of Fort Wayne and the Questa Educational Foundation, which have provided additional financial assistance; and the Northeast Indiana Regional Partnership, which secured $100,000 provided by Chase.
The total training cost of the program will be at least $667,000. That includes $390,000 from the Skill UP grant; $150,000 pledged by Northeast Indiana Works for on-the-job training once participants land jobs; the $100,000 from Chase; $17,000 from the City of Fort Wayne for Allen County-only participant stipends; and up to $10,000 from Questa for training equipment.
The goal is to provide training for 120 people throughout northeast Indiana.
Building Futures classes will include instruction on such things as communication, problem-solving, safety and health, blueprint reading, construction math, material handling, tool utilization, and quality. Students will have an opportunity to earn two industry-recognized certifications and complete Occupational Safety and Health Administration (OSHA) training.
Esterline said people who complete the program will be better prepared to either go right to work in a construction occupation or apply for a full apprenticeship, where they will be paid to further enhance their education and training. Building trades include laborers, carpenters, iron and sheet metal workers, plumbers, electricians, bricklayers, insulators, painters, plasterers and roofers. 
Esterline said the construction trades in northeast Indiana have a significant need for young, diverse talent, especially as people in the trades increasingly are approaching retirement. It is estimated construction industry job growth in northeast Indiana will rise by 17 percent in the next decade, from 13,963 to 16,397, or 2,434 jobs, according to a Northeast Indiana Works analysis. Additionally, another 2,683 jobs may have to be filled to replace retiring workers.
"Construction trades occupations offer good self- and family-sustaining wages," said Edmond O'Neal, president of Northeast Indiana Works. "Moreover, the future looks bright for the industry in the region, especially with the job growth estimates and the prospect of more large construction projects."
Added Fort Wayne Mayor Tom Henry: "Innovative approaches to enhance Fort Wayne and northeast Indiana as a point of destination for job and business growth are critical to the current and future success of our region. This new pre-apprenticeship program is a tremendous opportunity in our collective efforts to move our community forward in the right direction."
Building Futures is for people 18 years old and older. People who are selected for the program must undergo a pre-assessment process that includes a drug screen. Participants will receive a $100-a-week stipend during the course of the program.
Up to three classes are planned in Allen County and they will be held at Ivy Tech Northeast.
"Ivy Tech Community College Northeast is focused on addressing the needs of northeast Indiana," said Jerrilee K. Mosier, chancellor of Ivy Tech Northeast. "We're pleased to be the training partner in this collaborative effort that will help place newly skilled individuals in what is one of the most in-demand industries in our area."
People interested in the program can visit neibt.org or call the building trades at 260-489-8574. Deadline for signing up for the first class is March 17.
About Northeast Indiana Works: Northeast Indiana Works, the region's workforce development board, provides public and private financial and employment resources to businesses and individuals for education and skills training to meet the needs of regional industries. The nonprofit sets policy for how public and private funds are utilized to support talent development. It also operates and staffs the 11 county-based WorkOne Northeast career centers in the region. Individuals and companies may access resources and services by visiting or calling WorkOne in their county. To find your local WorkOne, log on to www.neinworks.org