New directional and information sign installed for industrial park
Saturday, September 3, 2016
More than two years in the making, the new directional and informational sign at the southeast corner of the Lancaster Avenue, Adams Street and Ind. 124 intersection on the city's west side has been installed.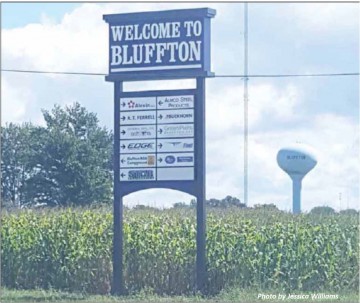 The hope is that the sign will better assist truck drivers on where to go when they come into town and seek the Decker Industrial Park. A lot of drivers are unfamiliar with the area, Mayor Ted Ellis said Friday, and make just one trip to the city. If they miss the turn at Ind. 124, he said, they end up in town on city streets.

While no amount of signage will cure driver inattention, Ellis said, the sign will help drivers – especially at night. The Bluffton Electric Department will illuminate the sign in the coming weeks.

The sign's installation, done by Indiana Sign Works out of Fort Wayne, was a joint effort between the city and the businesses listed on the sign. Each business featured has contributed $1,500 to the sign, Ellis said. As part of that cost, the business will be listed for five years, at which point the contract will be renegotiated, he added. The city will be tasked with the sign's maintenance.

The total bill for the sign came in at $19,914. Ellis said the city used economic development money to fund its portion.

In 2014, Ellis asked the Bluffton Common Council to earmark $30,000 for the sign. There were concerns the following March about future use of the land where the sign would be located. Earlier this year, the Bluffton Board of Public Works and Safety transferred $30,000 from the city's Interurban Trail fund to pay for the sign.

Ellis said Friday that part of the reason for the project's delay was that a second quote delayed the project an extra year. It was worth the wait, he added, as the second quote saved about $10,000.

Article by Jessica Williams, Courtesy of the News-Banner