Fort Wayne trail discussion is another step toward regional pathway
A move this week to consider expanding portions of trails in Fort Wayne is one step toward creating a larger, regional system of trails that would include Wells County.
The Northeast Indiana Regional Development Authority on Tuesday was asked to give the nonprofit Fort Wayne Trails Inc. $1.77 million to add nearly 8 miles of trail to four stretches of trails inside city limits.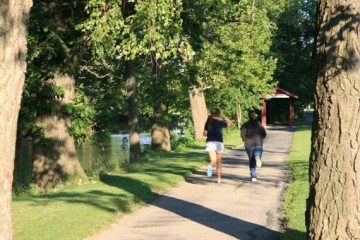 That is significant because those trail sections are slated to become parts of a trails network funded in part by the state's Regional Cities Initiative that would connect Ouabache, Pokagon and Angola state parks.
The development authority is charged with helping to decide how to spend $42 million in state funding for Regional Cities projects, and the decision to fund the trails expansion is one of the panel's first that is directly tied to Wells County.
The regional trails system — dubbed the Poka-bache Connector — is one of dozens proposed under the state grant program, and it is one of several slated for Wells County. Other proposed local projects include a $5.5 million Food Innovation Center in Bluffton, an amphitheater worth $250,000 at Archbold-Wilson Park in Ossian and an $18 million performing arts center in Bluffton.
Little has been done with the proposals beyond early planning efforts, though some local leaders say the trails project is intriguing and could bring visitors to Wells County and spur economic development in the area.
Regional Cities guidelines call for public entities to work with private groups to come up with money to contribute to grant funding to pay for projects.
Michael Lautzenheiser Jr., executive director of the Wells County Area Plan Commission, and Bluffton Mayor Ted Ellis have been working to explore funding and other options. No specific plans for the trails or the other projects are yet in place, however.
"Anything is on the table," Lautzenheiser said.
Chad Kline, Wells County economic development director, pointed to continued use of trails such as the Rivergreenway along the Wabash River to indicate interest in trails in the region. Communities must have things like opportunities for recreation to grow and attract new residents, he said.
"Trails have a significant impact on economic development both as community attraction and as an economic impact piece," Kline said in an email. "Trails have the ability to impact tourism, host events, increase property value, and contribute to jobs and investment.
"People seek communities that have things to do and if the region wants to attract new and younger families, then having a trail in a community will be vital for population growth."
The development authority typically meets monthly to discuss projects.

Article by Matthew LeBlanc, Courtesy of the News-Banner