Buying a house? Study says look at Wells County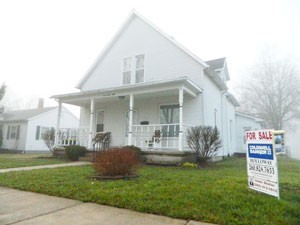 Wells County is the best place in Indiana to get a mortgage, according to a study by a financial website.
A home at 428 W. Ohio St. is one of many for sale in Bluffton and Wells County. A recent study by an online financial company said Wells County is the best place in Indiana to get a mortgage. 
Each year, SmartAsset.com uses factors such as borrowing costs and property tax rates to determine the best counties in the U.S. to secure mortgages.
In Indiana, Wells County tops this year's list. That's up from its No. 8 ranking last year.
Steve Sabato, a spokesman for the New York-based website, said the study used data from many sources to determine the rankings.
"The study determines top markets by comparing the likelihood of mortgage approval by county in addition to mortgage rates, average five-year borrowing costs and property taxes," he said in an email. "According to the study's Best Mortgage Markets Index, Wells County ranks among the top locations in Indiana."
Borrowing costs used in the study were calculated using expected costs over the first five years of a $200,000 mortgage with a 20 percent down payment, including closing costs. To determine the ease of getting a mortgage researchers calculated the ratio of mortgage applications to secured mortgages.
In Wells County, according to the study, the Loan Funding Rate was 68.85 percent, the highest rate among the top 10-ranked counties in Indiana.
Annual mortgage payments used in the study were calculated based on annual principal and interest payments for a $200,000 loan, using average mortgage rates in each county.
The annual mortgage payment for Wells County in the 2017 study was $14,846, equal to nine of the top 10 counties in Indiana.
Property taxes in each county were also included in the study, though it is not clear exactly how they were calculated.
For Wells County, the property tax amount included in the study was $6,833.
Jody Holloway, a Bluffton Realtor, said the tax numbers seem high. However, he said the conclusion of the SmartAsset study — that Wells County is a good place to get a mortgage — is sound.
Low taxes, access to mortgage lenders and a variety of other factors including low crime rates and good schools make settling in Wells County an attractive option, he said.
"It comes down to, this is just a very affordable area," Holloway said, also noting the county's 4.7 percent unemployment rate is among the lowest in the state. "I would absolutely say (the study) is accurate."
Wells is one of five northeast Indiana counties listed among the top 10 in the study.
A.J. Smith, who helped oversee the SmartAsset study and is the company's vice president of content, said in an email that many of the counties that performed well in the study are largely rural. She said many of those outperformed state averages on things like loan funding rates and property taxes.
"While other counties in Indiana may have stayed stagnant or saw negative movement in areas like loan funding rate and property taxes, Wells County maintained one of the highest loan funding rates in the state and residents pay some of the lowest property taxes," Smith said in an email.
Chad Kline, Wells County's economic development director, said the study is good news for the area as low, affordable and accessible housing can lead to attracting employees and businesses.
He said the information in the study will be considered by researchers conducting a study on housing and infrastructure needs. The study is expected to be complete by this summer.
"It's definitely good to be at the top of the state when it comes to housing and mortgages," Kline said. "You get more bang for your buck here in Wells County.
"We're doing something right in Wells County."
Article by Matthew LeBlanc, Courtesy of the News-Banner
Best places in Indiana to get a mortgage
Wells County
Jasper County
LaGrange County
Tipton County
Monroe County
DeKalb County
Posey County
Whitley County
Marshall County
Kosciusko County