Northeast Indiana's Income Growth Rate Holds Steady Against National Rate
Friday, November 17, 2017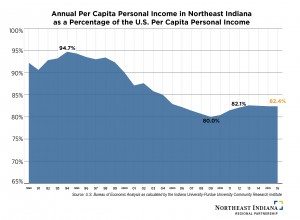 FORT WAYNE, Ind. – The U.S. Bureau of Economic Analysis released 2016 per capita personal income (PCPI) numbers, and Northeast Indiana grew at the same pace as the national average at 1.6 percent.
Personal income circulating in Northeast Indiana's economy increased by $613 million compared to 2015, resulting in a $788-per-person increase in personal income. The region's 2016 per capita personal income was $40,559.
"In 2010, Northeast Indiana residents earned 80.4 percent of the national per capita personal income. For 2016, that rose to 82.4 percent for the 11-county region. From 2010 to 2016, Northeast Indiana's PCPI increased by more than 25 percent while the national measure went up only 22.3 percent in that same timeframe. These numbers demonstrate the effectiveness of community leaders, working together through efforts of the Northeast Indiana Regional Partnership, to increase per capita income to improve the economic vitality of the region," said Rachel Blakeman, director at the Community Research Institute at Indiana University-Purdue University Fort Wayne.
"There is no question, we are making tremendous strides together as a region in confronting our most difficult constraints to the Northeast Indiana economy," said John Sampson, president and CEO of the Northeast Indiana Regional Partnership. "Despite annual challenges, this region's employers continue to emerge as contenders in the global marketplace. We will not waver in our commitment to the priorities of Vision 2030 or working together as a region. We know what is most important, and we are determined to raise prosperity for the residents of Northeast Indiana."
Per capita personal income is calculated as the total personal income of the residents of a geographic area divided by the resident population of the area. The data is released annually by the U.S. Bureau of Economic Analysis and was calculated by the Indiana University-Purdue University Community Research Institute. The November 2017 data is a preliminary report. The final data will be released in May 2018. To review the preliminary full data set, click here.
To learn more, visit the website at www.neindiana.com/news.
About the Northeast Indiana Regional Partnership
The Northeast Indiana Regional Partnership's mission is to build, market and sell Northeast Indiana to increase business investment. Founded in 2006, the public-private partnership strives to build a globally competitive region. The Partnership's Vision 2030 framework supports collaborative regional efforts to increase per capita income, population growth and educational attainment by focusing on business attraction, talent attraction and talent development. The Partnership represents 11 member counties: Adams, Allen, DeKalb, Huntington, Kosciusko, LaGrange, Noble, Steuben, Wabash, Wells and Whitley counties. For more information, visitwww.neindiana.com.
 
MEDIA CONTACT:
Kate Virag
Vice President of Marketing & Strategic Communications
Northeast Indiana Regional Partnership
260.414.2431
kate@NEIndiana.com