2020 was 'not a slow year' for economic development
Monday, February 22, 2021
Despite the challenges that 2020 brought with it, local businesses almost matched the millions they invested in the community the year before, according to the Wells County Economic Development annual report.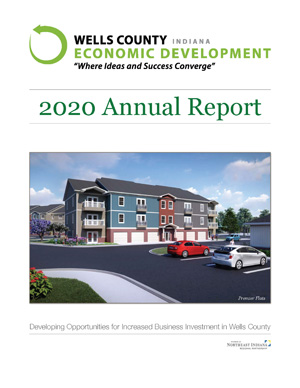 Chad Kline, economic development director, presented the 2020 report to three government units last week, speaking to Bluffton and Markle officials as well as the county commissioners.
"So 2020 was kind of an interesting year, to say the least, but it was definitely not a slow year for us when it came to economic development," Kline told the Markle council Wednesday.
Last year $96.8 million in new investment was committed in Wells County, bringing in 431 new jobs and committing to adding $15.4 million in payroll.
Two projects account for most of that, he said, including the $40 million apartment complex project Premier Flats on North Main Street and the $42 million Bluffton expansion project of Inteva Products on Lancaster Street.
That's down a little from 2019's $99.4 million, but still much higher than 2018's $58.9 million, 2017's $63.5 million and the $11.6 million in 2016 — the year Kline began and started tracking this figure.
Kline said it's probable more investment would have happened last year had COVID-19 not hit. Some companies indicated they pulled back their investments. This year looks to be a strong year, he said.
He said he is hearing some employers are still having an issue finding talent to fill available jobs. 
Contact with businesses looked different last year as they wanted to make sure the companies were being provided resources and information they needed to navigate COVID-19, furloughs and lay-offs, he said. There were more than 100 visits with businesses last year.
Meanwhile, the county's unemployment rate took a hit during the pandemic — but the workforce recovered. In January 2020, there were 13,935 individuals employed and by year's end that had increased to 14,168.
The total workforce grew during the year too, from 14,393 in January 2020 to 14,592 in December 2020.
"Wells County's average unemployment rate continued to rank as one of the lowest in the state at the start of 2020; however, due to the COVID-19 pandemic, it quickly shot up to 16.3 percent due to the state shutdown of businesses in the month of April," the report said. "Once reopen, it quickly dropped, out-pacing most area counties around Wells. Wells County started the year with a 3.2 percent unemployment rate and finished the year at 2.9 percent."
Multiple projects for 2021 were identified, including "develop and implement plans to continue broadband growth throughout Wells County through creation of a Broadband Task Force."
A future goal is expand the county's workforce numbers.
"We need to grow our workforce by a thousand people over the next five years just to meet the commitments of the companies that we have and have committed to coming into this community," Kline said. "And that's if we stop doing any attraction, which we haven't stopped doing."
Wells County had 55 site leads and 15 responses for information of current available sites. The responses were lower, he said, because Wells County lacks the building inventory to support many more leads.
Kline also spoke to the marketing and tourism efforts that were launched last year, telling the Markle Town Council that the county's marketing effort will mention Markle because of its partial location within Wells County. The talent attraction brand came up with the "Live Better. Live Wells" slogan and a visitwellscounty.com website was launched.
Meanwhile, Wells County is taking steps to create a tourism commission, he said. Kline noted Huntington County has had one for a number of years "and we feel it's past time for Wells County to kind of get on that boat as well."
Part of the county's efforts include an online presence to share information about attractions within the community.
"Most people travel online before they ever get to an actual place," Kline said. "So if they can't find you online (and) find out about things they can do online, then they're never going to come there. So we want to make sure that we're taking advantage of the visitor economy. We believe we have great assets in our community, in this county, and we want to make sure people are aware of them."
There were 66 new home starts in Wells County last year, 28 of which were rural, 24 in Bluffton and 14 in Ossian. That's up from 51 in 2019, 58 in 2018, 60 in 2017, 58 in 2016, 46 in 2015, and 34 in 2014.
"Wells County saw a significant increase in new housing construction in 2020 compared to 2019. There is a concern that this increase will be difficult to maintain in 2021 due to a lack of available building lots within corporate boundaries," the report said. "Rural housing growth continues to keep pace with urban housing starts with 23 rural starts compared to 28 urban in 2019 and 28 rural starts compared to 38 urban in 2020."
If more lots are not made available in urban areas, Kline said, they will start to see more rural home growth — and that will lead to more issues in infrastructure such as sanitary sewer.
There were no new home starts in Markle last year, Kline said, and there were none in Zanesville — both "due to a lack of lot availability," the report said.
"Significant efforts are being made in several communities to develop more housing lots in 2021 as well as possibility of incentives for housing development," it added.
A full copy of the report can be viewed HERE.
Story by Jessica Bricker, Courtesy of the News-Banner