20/20 Custom Molded Plastics Expanding Bluffton Facility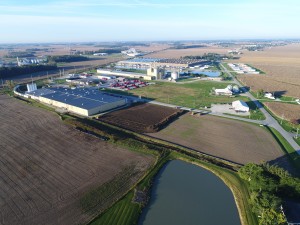 BLUFFTON, Ind. (Oct. 12, 2018) – 20/20 Custom Molded Plastics, a custom structural form molding manufacturer, announced plans to expand their Bluffton facility Friday morning during a ground-breaking ceremony. The facility is located at 785 Decker Drive in Bluffton.
The company announced it will construct a 240,000 square foot expansion to the already 170,000 square foot facility. New investment in the facility, with construction and equipment, will be approximately $26 million.
Based in Holiday City, Ohio, 20/20 Custom Molded Plastics purchased the former Buckhorn facility in August 2017 and announced that they would invest more than $27 million to purchase, equip, and expand the facility and create up to 155 jobs; however, the newly announced expansion is larger than originally intended. A total investment now reaches over $41 million and the creation of over 200 jobs since the August 2017 acquisition.
"When we first came to town, our vision wasn't quite this big," said David Rupp, owner at 20/20 Custom Molded Plastics. "Recently, we purchased Fort Wayne Plastics and their equipment so their customers are moving to this facility; with the additional requirements of our existing customers, our project has grown."
Founded in 2000, 20/20 Custom Molded Plastics manufactures structural foam products, which are lighter than traditional materials while still maintaining structural integrity. Using the injection molding process, the company produces products such as pallets, carts, in-ground enclosures, pool panels, floating dock systems, burial vaults and window wells for companies in the logistics, home and garden, consumer products, construction and leisure industries.
"This marks the continuation of a great relationship between 20/20 and our community," said Bluffton Mayor Ted Ellis. "Working together, as the project was in its early stages, we learned that we share common values and goals. 20/20 will be a good corporate citizen of Bluffton and we welcome them with open arms."
The City of Bluffton has offered 20/20 Custom Molded Plastics funding through a company purchased TIF bond that will be financed directly from the increased investment of the project. The Indiana Economic Development Corporation previously offered incentives following their initial announcement in August 2017.
"The cooperation that we have had with the Common Council of Bluffton, Wells County Economic Development, and the State of Indiana has been absolutely spectacular. They are a big part of why we are where we are today," concluded Rupp.
.  
About 20/20 Custom Molded Plastics
At 20/20 Custom Molded Plastics, our mission is to exceed our customer's expectations. We consistently do this by assisting with part and mold design and by working with some of the best toolmakers in the industry. We can help you avoid design and production problems because of the expertise that we have developed in the custom structural foam molding industry. For more information, visit www.2020cmp.com/.